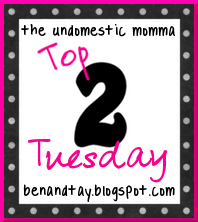 Today's topic over at The Undomestic Momma's Top 2 Tuesday is 2 Random Things about Yourself... this ought to be fun since I have some of the most random quirks ever!! Head over to her blog to check them out, and link up if you choose to join in on the fun!!
1} I DO NOT like online shopping... GASP!!!! That's right folks, you heard it here first, a girl who does not like online shopping. I think I have MAYBE ordered something off Old Navy's website once, and a few things from ebay. I will not purchase things online from stores we have here locally, I'm not sure why. I'm more of an instant gratification person, and if I want it, I'd rather just walk right in to the store and buy it.
2} I have a weird food texture thing. I cannot eat anything with a mushy (yes that's a word) texture for too long or I will start gagging. For example... mashed potatoes, yogurt, applesauce, you get the idea. I love all 3 of those foods I mentioned, and eat them regularly, I just have to portion them properly. HA HA! So ridiculous right?!