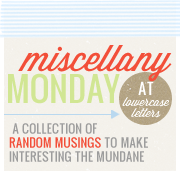 To join in on the miscellany monday fun, head over to Carissa's blog!
One} I've got 2 pillows done, our basement is a complete blank canvas, I picked up some more plates for the plate wall yesterday at Target, and Chelsea sent me this AWESOME zebra plate when I mentioned I was sad I couldn't find one yesterday. Things seem to be coming along in the basement progress, whoo hooo! I'm still struggling with one part of our basement, I can't quite figure out what needs to go there, who wants to help me?! I might post some pictures and see if any of you have ideas.
These are the two pillows that I've made so far. I'm hoping to get a few more made today also.
How cute is this plate? I need to order it asap! The plates I've embellished or purchased so far are white and black and white and yellow. I think this zebra would be a super fun touch (plus most of ya'll know I love my zebra/animal print). No idea what I'm talking about with the plate wall? Check out my inspiration HERE!
Two} We're getting a tad bit of ice right now, and are projected to get anywhere from 6-12 inches of snow tomorrow throughout the day. I'm guessing Macie will probably be getting another snow day or two. Too bad Gerrad doesn't get snow days to stay home and play in the snow with us!
Three} We had another super low key weekend this past weekend, which felt GREAT! Its nice to just stay in and enjoy being together. Sometimes I feel like we're running so many different ways all the time, I truly appreciate the time when we are just home being silly, and being together.
Four} Guess who FINALLY got their Christmas tree down this morning? ME! WHOOP! Only about a month late, whoops! I was so sick and tired of looking at it, and decided I'd just take matters into my own hands instead of waiting for G to help (don't worry I still love you babe).
Five} I feel like Addaline is getting a tad bit too mouthy. Sometimes we have a hard time getting on her because some of the things she says are SO funny, and out of the blue, that we can't help but crack up when she says them. Lately though I have figured out she knows what/when to say it and is catching on that we're letting a few things slide, back to the strict mom I go! Wish me luck! Picture a blond haired, blue eyed class clown with the cutest dimples who is an absolute riot, but only acts up for ME. How did I get so lucky, HA! From what I've heard, Addaline is Gerrad's payback from his childhood. I love that God has a sense of humor ;)