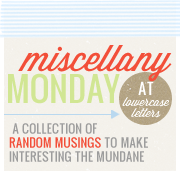 Once again I'm joining 'Miscellany Monday' hosted by Carissa over at Lowercase Letters. Head on over to her blog to check out every one's random Monday musings.
1} I miss the blogging world!! I was sick last week for 4 days, it was MISERABLE! I don't know what is going around, but I NEVER get sick, and so far I've been sick twice this fall/winter, what gives?
2} I'm STILL not done with my Christmas shopping, eek! We've been done with the girls for a while, which is a relief, but we still have a few odds and ends to pick up, and I kind of want to get Gerrad another thing or two, but he is a nosey hubbs and reads this blog so I can't mention anything here ;)
3} Saturday night we had a Tacky Sweater party that we attended, it was one of the FUNNIEST nights ever! I took tons of photos, and will post them tomorrow! We played a few 'Minute to Win it' games as well, which was a hoot! And we got to snuggle sweet little baby Delaney so that was another plus as well!
4} I'm super pumped for Christmas this year, not that I'm not every year, but this year its extremely exciting for some reason, I think because Addaline is at the age where everything is SOOO thrilling for her, it makes me laugh. I can't wait to watch the girls open all their gifts Friday night/Saturday.
5} I'm looking SO forward to 10 days off with my family this weekend/next week. There is nothing better than good, quality time together!
6} I am praying for a white Christmas. If its going to be cold, PLEASE at least let us having something pretty to look at :)
Hope ya'll had a wonderful weekend! Stay tuned for lots of silly photos tomorrow!