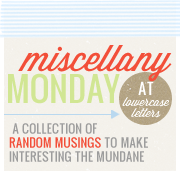 one} I leave for New York Wednesday, have I mentioned out excited I am to visit this fab place I've heard so much about?!
two} Today is my mom AND my niece's birthday! Shout out to my mom Pam, and my cutie patootie niece Kamryn. Love both you girls :)
three} I won't see Gerrad until Saturday when he picks us up from the airport, that makes me a little sad :(
four} We have parent/teacher conferences Thursday evening for Macie, I will be in NYC. My control freak nature is totally taking over and I'm a bit paranoid about missing them.
five} Gerrad has become quite the 'meat smoking' master. Thanks to his parents for giving us their old smoker. Last night we had the most DELISH pork tenderloin, YUM! I have started referring to Gerrad as Bobby Flay :)
six} I keep feeling the urge to go shopping before this trip, but then I have to stop and remind myself that I should just save my $ and shop in New York!
seven} Gerrad and I watched 'Swamp People' for the first time ever last night... have you seen this show? OH EM GEE people! I CANNOT even fathom some of the things that I saw on that show. HOLY COW! I can't even get into it, we'll be here all day!
Hope you all have a wonderful Monday!!
P.S. Enjoy this little convo between Gerrad and I via facebook- His comment made me CRACK up laughing about the alligators, brought me right back to the class of people on 'Swamp People.'
Molly Hall Gerrad Hall: FYI (I know how much you love when I say that) I'm gonna miss you this week! Let's try to keep the children dressed appropriately if we're going in public, I do have a reputation of little diva stylist to uphold ya know ;) Love ya!
Gerrad Hall: Hey, don't break your arm patting yourself on the back! I will make sure the kids are dressed and faces are clean before we go in public! You just focus on getting out of that bootleg van parked in the back alley! And the show last night did prove there are gators in the sewers of NYC so don't go down there either! Other than that...have fun! Love you!
Molly Hall: I am cracking up! There will be no gator hunting, and if I do, I'll make sure to talk like those classy dudes from 'Swamp People' and bring my 22 rifle. If I get killed trying to snag you a pair of Oakley sunglasses, give my inheritance to the kids ;)