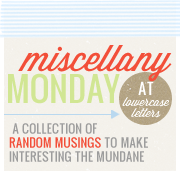 Have some random thoughts brewing but don't know how to let them out? Head over to Carissa's blog and link up!
1} I've been trying to get caught up on laundry for the past week and a half... guess what? I'm STILL not caught up, I think that I need a maid for laundry only. It is my most dreaded household chore for some reason. I would give anything to be able to see the light at the end of the tunnel, but when you live in a house with 4 people, who create a lot of laundry, I don't think that's every going to happen.
2} This past weekend we did absolutely nothing, and I enjoyed every minute of it. Friday night we stayed home in our pj's and I made chicken and noodles. Saturday was my dad's birthday (HEY DAD :)) so we went to breakfast, then to Starbucks, and then home. Addaline had a birthday party for a sweet little girl in her preschool class, then we came back home and put our jammies on and lounged. I helped one of my girlfriends make an ADORABLE wreath while G went out with some guy friends. (I'll post a picture of the wreath asap, ya'll will LOVE it)
3} Our Christmas tree is STILL up, seriously! Every decoration in our house was taken down on New Years day, except the tree. For some reason I have decided that until I can get Gerrad to bring in the totes that I need from the shed, that its staying up. Maybe I should decorate for Valentine's Day? HA!
4} I've been doing really well lately with not letting things get to me. When I'm feeling stressed I just remind myself, "It could be SO much worse, I've got it made." As I mentioned Friday, there is so much hurt and pain going on in other peoples lives right now, I truly am blessed and am trying to do a better job of saying it/showing it! Will you join me?
5} For you Bachelor fans, sorry I didn't keep up on my recaps, I got behind on the show. I'm hoping to be caught up tonight and recap it for you tomorrow :)
6} Can I tell you how excited I am that 90210 comes back on tonight?? WHOOP!!
7} How many of you watch Glee? I've been thinking of catching up on all the episodes so I can start watching it. Is it worth it? I don't have tons of ample time, so I just wondered your opinions on the show.
(For some reason my spell check is working against me today, so if you see some huge error, I apologize in advance ;))