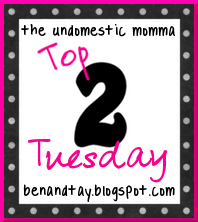 Today over at The Undomestic Momma, Top 2 Tuesday's topic is Favorite Celebrity Style, YAY! My taste is pretty simple, not a lot of frill/flare so my choices are some of the most plain yet gorgeous celebs out there.


Reese Witherspoon is my number 1 pick. She always looks SO cute and put together whether she is just wearing jeans and a t-shirt, or wearing a gorgeous gown at an awards ceremony.
L.O.V.E. the purple ball gown in the middle, SOOO pretty!


My second favorite celebrity for her style is Jessica Biel. Not only is she simply gorgeous, that girl has some super simple, adorable style. She is often spotted just wearing sweats, t-shirts but always looks gorgeous. Love the jacket she is wearing in this top picture!
She looks beautiful in this super cute dress!!

So who are your favorite celebs for their style trends?
This week is Spring Break for us and the girls and I have just been enjoying spending time together away from the house. Tomorrow we are going to the annual St Patty's Day parade downtown. I'm super excited and will be taking TONS of pictures. I made the girls matching shirts, so no doubt they'll look adorable :) I've also been catching up on orders which feels good. I've missed all my blogging friends, but have been loving spending time with my girls away from the house/computer/work!