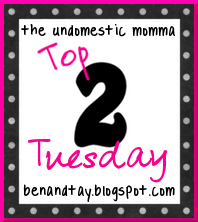 Today over at The Undomestic Momma's blog, the topic for Top 2 Tuesday is: 2 Things You Can't Live Without
The obvious things would be God, Gerrad, Macie and Addaline, food, water, etc... I'm going to keep it light and tell you 2 things I could actually live without, but wouldn't like to, make sense?!

1} My Blackberry!! I know, its pathetic I AM one of those people! Lately its been my lifeline with this new business venture and trying to stay on top of all my email orders/questions/requests. Don't get it twisted, I also use it to facebook and blog as well, ha ha!!


2} MUSIC! I am always listening to music. It seems to help motivate me 9 times out of 10. When I'm going to clean the house, fold laundry, craft, etc... the FIRST thing I do, even before getting out my supplies, is turn on the music. The louder the better, but if the girls are around I keep it at a low volume ;) I think my love for music has rubbed off on both the girls which I love. Macie sings all the time, and adores dancing to music. Almost on a daily basis, the girls with have a little dance party in one of their rooms, and it just tickles me!
So what 2 things couldn't you live without???? Its so interesting to see what people feel is truly their lifelines!!