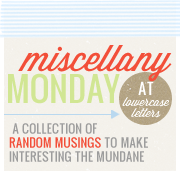 I have read Carissa's blog for a long time, but for some reason have never participated in Miscellany Monday, until TODAY :) I think its fun to just have a 'random thoughts' post every now and then.
one) I recorded ALL of the episodes that were on of 'Sister Wives' last night while they were running a marathon. I fully intend to do nothing but lay on the couch and watch that show tonight after the girls go to bed.
two) I'm SO glad Halloween candy is in full force, I cannot get enough of candy corn.
three) This may be a small miracle but, yesterday we went to a fall craft festival in another town, and I DID NOT BUY A THING! That's right, NOTHING, NADA, ZILCH! You might want to mark that down in the record book!
four) I
NEED
want
this necklace
, like BAD! Gerrad has asked that I email him this necklace a few times now. I've given up hope, and am just going to purchase it for myself today I think :-) Its my 'because I feel like it' present to myself, HA!
five) I'm FINALLY getting my hair done on Thursday evening (Thanks Maria, you ROCK). The entire right top of my head by my bangs is slowly turning grey, THANKS DAD!
six) I found a new dress style that I'm going to add to my collection of products today. Can't wait to make one for Addaline and have her model it for a few pics!
seven) Gerrad is working out of town all week again this week. The week always seems to CRAWL by when he's gone. Thank goodness for DVR'd shows that I will be enjoying all week after bed time!