Hi y'all! I'm Heather from...
I blog about life, love, and furbabies.
...with a little goofiness thrown in.

I also host a weekly Book Club linky! You should join in.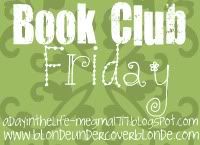 I am so happy to fill in for Molly while she and her family are at DisneyWorld!
My family has a tradition of going to DisneyWorld every other year. It's one of my favorite places in the world. So I thought I'd share some pictures of our most recent trip!
Disney doesn't do anything half-hearted.
Not even shrubs.
We were greeted by Mickey & friends at the front gate.
Characters randomly appear for shows throughout the day!
Nobody does a parade like Disney.
Can't have a Disney post without the castle.
My siblings and I were kidnapped by the Evil Emperor Zurg.
I would like to brag state for the record, that I won the title for the highest score on the Buzz Lightyear ride the last trip. My parents claim that my sister beat it on the most recent trip, but there's no proof of that. Regardless, I handled the news with class.
...Or maybe I tried to take her out with a golf cart...