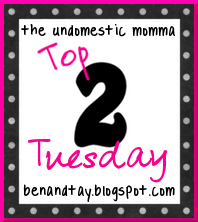 This week over at 'The Undomestic Momma' the Top 2 Tuesday topic is baby names. I've said a few times that we are done having kiddos, but you never know what the future holds for our family, so I can still dream about baby names, right?!

My girl name choice would be, well, I actually have a few girl names that I like. I love the names Campbell, Andersyn and Marley. I think I would go with Andersyn if we ever had another girl. There is just something about that name that I L.O.V.E!!!

We've had the same boy name picked out since we got pregnant with Addaline. My favorite boy name is Cannon, but I also love the name Camden (its getting too popular so I wouldn't use it).

When we were pregnant with Addaline, before we knew she was a girl, we picked out her name and the boy name, and chose their middle names also. I love being able to call the baby by name the second you find out what you're having. With Macie, we were struggling with her name, because we both wanted something different. I'm SO glad we chose Macie and not the other 2 names we had picked out, they other 2 are now some of the most popular names out there. And if you know me in real life, you know I have to be different when it comes to picking baby names!