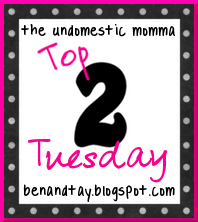 Top 2 Favorite STORES
So this is my first week in participating in Taylor's Top 2 Tuesdays, and I think I'm going to LOVE it! Who doesn't like sharing their favorite things on their blog?!



I'm going to have to say that Francesca's have definitely made one of my top 2 favorite stores recently. I am loving their spring dress collection. How cute are these 2 dresses? I MUST get them!


My next favorite is Charlotte Russe. These are some of my favorite tops that they are carrying right now. I'm normally not a huge fan of red, but I LOVE this first top. Maybe they have it in other colors?

Love these 2 tops well. The pale pink is super cute and would be great for spring/summer. The cream colored one is adorable as well. My friend Jenna just purchased this one and I LOVE it!

So those are my top 2 favorite stores right now. How about you? Where have you found the cutest clothes lately for the most reasonable prices??