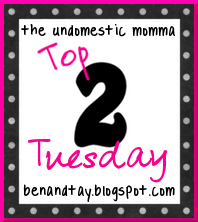 This week over at The Undomestic Momma's Top 2 Tuesday, the topic is your 2 favorite magazines.. YAY!

1} US Weekly is one of my favorite magazines. I'm all about the Celebrity gossip when it comes to magazines... although I should be reading something more like 'Southern Living' or 'Good Housekeeping' ha ha! When we go on vacations its ridiculous how many magazines I take on the plane with me, and don't think Mr Hall doesn't like to read them as well ;) I like to read US Weekly magazine cover to cover, its always good! It seems like they are one of mags that always has the juicy gossip first!


2} My second favorite is People magazine. I don't typically buy this one, I just get online and read all the updates there.
I really need to branch out and read something with a little more substance, but what girl doesn't enjoy a little celebrity gossip??
I uploaded all of our pictures from Easter weekend last night, so stay tuned for another post today with a LOT of pictures!!