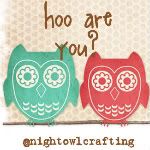 One of my blogger friends Casey did this, and I thought it looked fun, so I wanted to play along! And now I've found another blog that I LOVE- Night Owl Crafting, eek!

Here are this week's questions:

1. What is the most physically painful thing that has ever happened to you?
2. What would you name your next child or if you don't have any your first child?
3. If you could add one feature to your car, what would you choose?
4. If you named your house (or car or computer) what would you name it?
5. What is your dream occupation?

Here are my answers:
1. I would have to go with CHILD BIRTH! Although when you look back, you don't really remember the pain, it was all worth it!
2. Well, last time I did this game, someone took my favorite girl name, BOO :( We still haven't decided if we're done with kiddos or not, I'll go ahead and share a few of my favorite names, not necessarily my very favorite names, ha! Girl- Emerson, Hadley, Rowan Boy- Cohen, Cannon, Dempsey
3. The feature I would add would be a dvd player. However, I like my slightly older car (2004), with a smaller car payment, so I'm pretty happy with how things are!
4. I would name our house- The Hall's 3 Ring Circus, there's never a dull moment!
5. My dream occupation is to be a children's boutique owner!
I've fallen off the bandwagon on the 30 Day Challenge, I'll try to jump back on it tomorrow :-)